Anvil! Live! Pleasantville!
Thu, Jul. 30 2009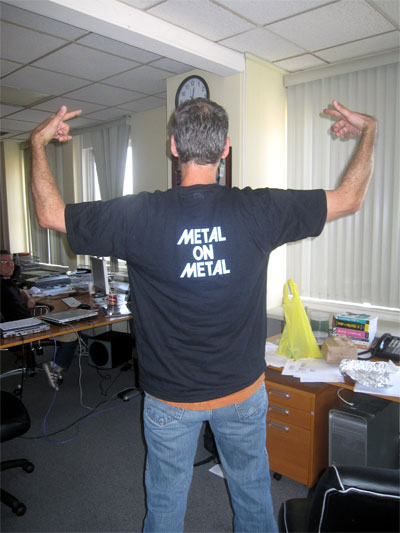 My buddies went to see a screening of "Anvil! The Story of Anvil" at Jacob Burns last night and all I got was this t-shirt (that's Steve talking).
Me and Jim caught the special engagement of this rockumentary which was followed by a Q&A session with the two stars of the film, front man Steve "Lips" Kudlow and drummer Rob Reiner ("the original") of 80's metal blink-and-you-missed-them sensation–Anvil.
It's a great film.
I've seen it referred to as "the ultimate metal bromance" and the "real life Spinal Tap" - both are accurate. Anvil! is also a "Rocky" movie - the tale of two friends who met at fifteen and refuse to give up their dream of making it big as Anvil–despite the fact that they're now fifty. These shaggy lovable Canadian underdogs are up against incredible odds and you just can't help rooting for them.
As the guys themselves said last night, there aren't too many bands that stick together over 30 years - there's The Rolling Stones, The Who, and...Anvil.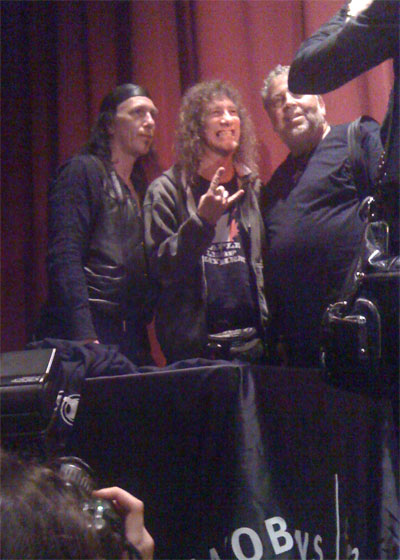 The Anvil story is remarkable enough but the story of the film is also pretty incredible.
The Director, Sacha Gervasi, was a roadie for the band when he was only fifteen years old himself. After a few tours, they split but Steve and Sacha reunited twenty years later. It just so happens that Sacha has gone on to become a successful screenwriter (among other things) since they last saw each other, and Steve has just been offered an opportunity for a European Anvil tour that looks slightly shady from the start to say the least. Sacha knows there's a movie in this and he drops everything to make it.
I'm happy to report:The film is getting rave reviews.Anvil is playing with AC/DC at Giants Stadium tomorrow night.Things are looking up.
Just see it when you get the chance.
Anvil! The Story of Anvil