What a Bunch of (Mystery Math Town) Cards
Fri, Mar. 22 2013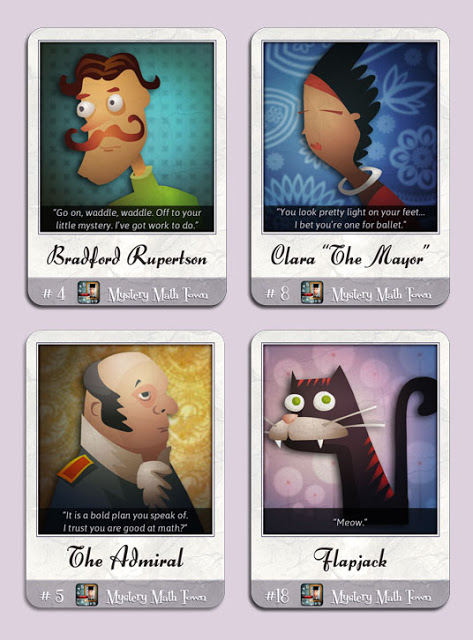 Clara runs the only dance studio in town - she's also the mayor.
Bradford, well, he's busy perfecting the art of handlebar mustache waxing.
The Admiral loves talking tactics - especially when it involves chasing pirates.
And Flapjack is just waiting patiently for a slice of Shirley's shoo-fly pie.
People really seem to enjoy meeting the characters of Mystery Math Town as we release their individual trading cards on our Facebook page.
Have you collected the first 12?
We'll keep releasing them right through launch.
Speaking of launch, we submitted the app to Apple on Wednesday for review.
Which reminds me, we have a big announcement:
Mystery Math Town will be available in the App Store April 3.
Now I know it's pretty brave to set a hard launch date in bold type before the app is even approved, but we have some padding in our plans - hopefully, we don't need it.So mark your calendar, set your alarm or leave a detailed message in permanent marker on the back of your hand - whatever gets the job done.
If that fails, we'll still remind you.And we'll try to keep you entertained until then.
mysterymathtown.com