Marble Math (Finally) Coming To Android
Wed, Feb. 11 2015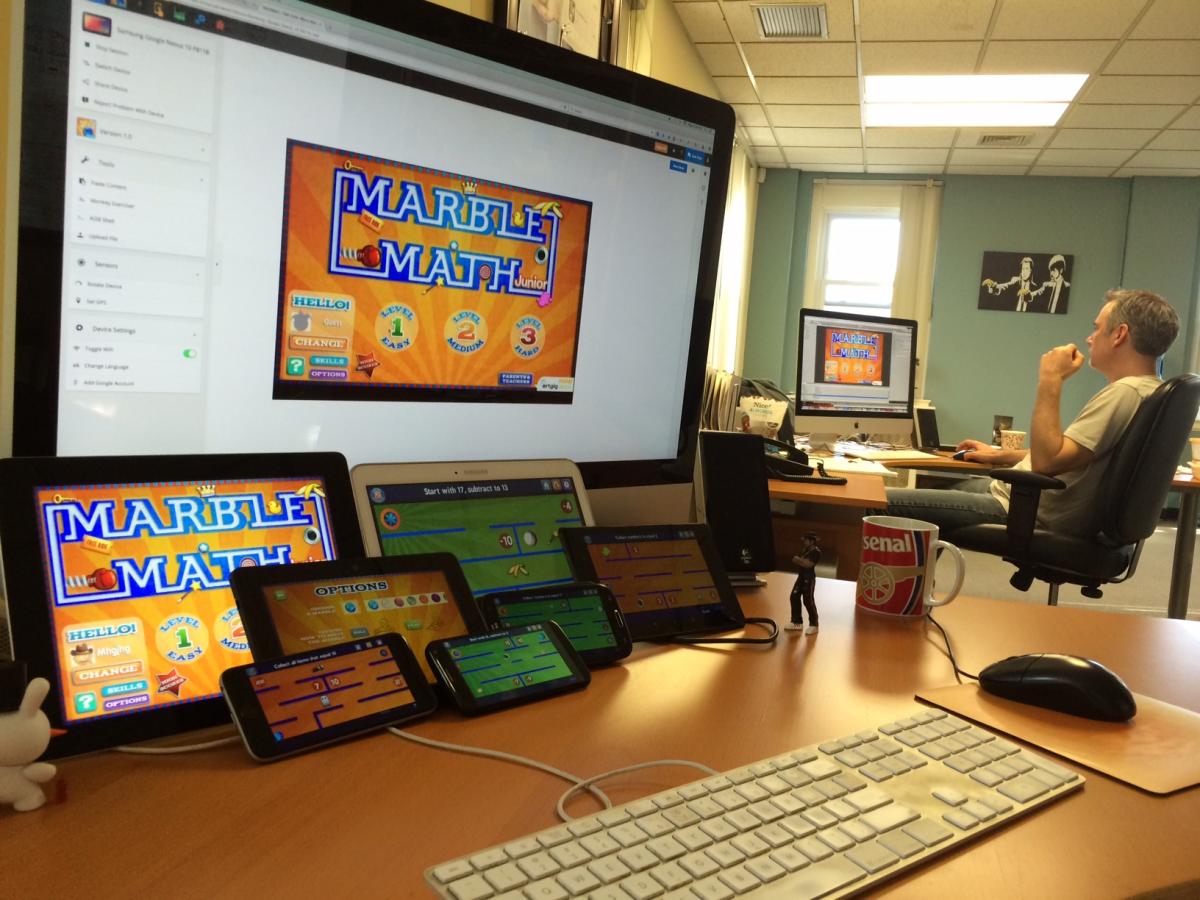 This month we'll release our award-winning Marble Math apps for Android. It's been two years since we launched Marble Math, Marble Math Junior and Marble Math Lite: Multiplication for iOS, and our only Android release, Shake-a-Phrase, has been a firm and loud faceplant - selling less than 5% of the iOS app. All of the developers I talk to say the same thing - Android is only worth it if you can do it fast and cheap because the dollars just don't add up. So why Marble Math, and why now?
Our latest foray into Android development actually started last spring when we were making Drive About: Number Neighborhood. Drive About was going to be a dual platform app, and we were using Apportable to make it happen. It was all going quite swimmingly until we hit a big pothole on the Android side that pretty much killed the essential side-scrolling animation. We even talked to the technical team at Apportable, but after spending many hours with them over a period of weeks, it became clear that they didn't have a solution so we had to pull the plug on the Android version.
We were pretty busy with client projects over the summer and the fall brought a blitz of iOS 8 updates and other enhancements to our existing apps, and by the time we were done with that, the bitter taste of our Android setback had faded just enough to consider another approach. We've also seen Google make significant moves in the education space over the last year, and we think it may be time to catch the wave. We decided that if we were going to do it, we were going to go big, and our three Marble Math apps would make the biggest splash.
We know from user feedback and our iOS education sales data that teachers and kids like to use Marble Math in the classroom. The novelty of tilting your device to roll your marble through a math maze may wear off pretty quickly (and, if you're like me, you'll just switch to dragging the marble around with your finger), but there is no question that it is an effective and incredibly flexible, math drills app that can be customized for each user. We like Marble Math for Android because it appeals to educators as a classroom tool.
We also really wanted to make a deep dive into Unity as a multi-platform development tool. I will say the development of our Marble Math apps for Android has been neither fast, nor cheap, but in this case the experience is the reward. We think Unity is a solid platform that will only help to make us better developers for iOS and Android and it certainly doesn't hurt the client business when you can offer more platform development options.
So here we are, in the final weeks of testing and we can see a realistic launch date at the end of the month.
Stay tuned - the Marble Math family is coming to Android.
Finally.