iPhone - From the Trenches
Fri, Jul. 11 2008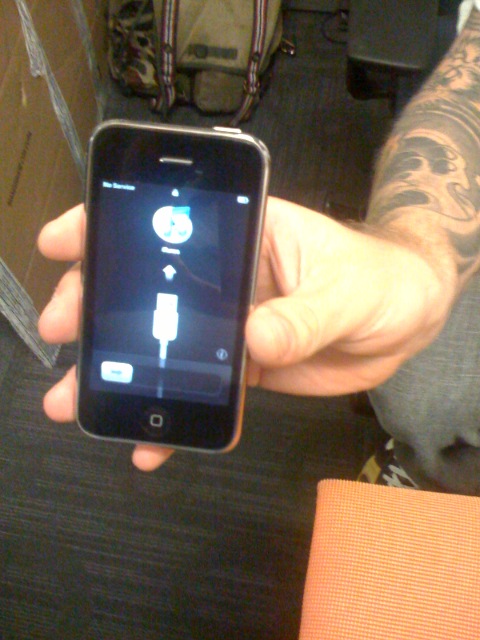 By now, you've probably heard the news - the iPhone 3G international launch today is a huge success, and a giant mess.
I started my day early for a business meeting in NY so I decided to take a walk down 5th Ave to the ATT&T store to see if I could pick one up real quick.
I took one look at the line snaking around the block and decided I could wait.
I checked in with Danny to see if he was having any better luck up the road... I only talked to him for a minute but it sounded like he was also high and dry - the store he was waiting at had run out of stock.
Fast forward eight hours and I just got a full report from Danny - a blow-by-blow account of one man's unwavering determination in the face of tremendous odds:
On Jul 11, 2008, at 4:04 PM, Dan D'Agostino wrote:
Glenda and I arrived at the AT&T store at 7:00 AM. We were told by store staff that based on our position on line that we would at least walk away with the 8gig versions. There was about 60- people in front of us. At 8:00 the doors opened and we moved closer to the doors. By 9:00 we were almost there and then the line just stopped moving. Glendalee left for work after an AT&T guy said he would allow me to get 2 without her being there. By 10:00 AM I hadn't moved more than five feet. At 10:30 they came out and said they sold out. There were still 30 people in front of me?????? So that means they only had 30 phones? Why tell me and another 60 people behind me that they would be ok? So I decided to take the subway to the Apple store on 59th and 5th and when I got there the line was around the corner—about 1000 people easily...Funny thing. An entrepreneur had a bunch of strippers (seriously) walking up and down the line buying first generation iPhones from people. Not so bad. I hung out 20 minutes spent $100 on lap dances (kidding) and noticed the line wasn't moving. Something was up. I decided to go to work and on my way I passed another AT&T store. The staff person at the door said they only had a few phones left and not to bother but there was about 100 people on line. Why not tell them?
I got to work at about 11:15 and at 12:00 I asked a coworker if they wanted to go grab lunch—by the AT&T store. We stopped at the store and a worker there said no more iPhones today but he would have them tomorrow morning at 8:30 and gave me his card to call him in the AM. I called Nanda to say hi and I told her that news. After lunch we walked by the store again and there was a f'ing line again????? I walked up to the dude and said what the !@#$. He told me they just got a shipment in and made me cut to the front of the line. I picked up 2—one for me and one for G love..... Apparently, they never sold out of the phone. They said that because the system crashed and they didn't know what to do or how long it would take. They finally got word that Apple gave the ok to sell the phones without activating them in-store. I need to activate it by hooking it up to iTunes, which, we don't have the latest version of here. So I have to wait till I get home. Wow. I can't believe I wrote all that.
And there you have it.
I'm still waiting...
APPL - 172.58