Go Saints!
Tue, Mar. 10 2009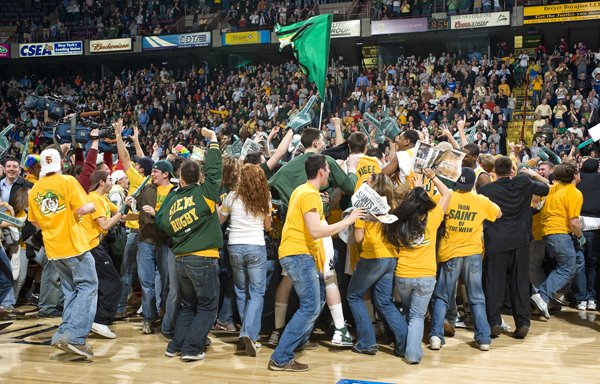 >Chances are, you've never heard of Siena College, a small liberal arts school of about 3,000 students, tucked away in suburban Loudonville, NY, just outside of Albany.
Well, their basketball team, the Siena Saints, beat Niagara 77-70 last night in the MAAC Tournament Final to earn a place in the big show - the NCAA's, for the second straight year.
This is a monumental achievement for a small school like Siena and a really bid deal, especially for their die hard fans, like my father.
My relationship with Siena dates back to my earliest memories, some years after my father had already graduated from Siena, but we still lived just a short drive away from the school.
Back then they were called the Siena Indians.
My dad was always close to the team and me and my brother spent a lot of time hanging around the gym and attending games.
We even had players drop by the house for lunch and I remember visiting the coach at his house.
We were tight–the Kicinski's and Siena.
We moved away from the Albany area when I was around nine and that was pretty much that as far as I was concerned–my ties to Siena faded and perhaps there was a moment when I thought Siena was gone for good.
Of course, that wasn't possible with my dad still around.
And I maintained a relationship with a family friend who runs a communications agency out of the Albany area.
And before I knew it, Siena had pulled me back in.
I did a lot of small illustration and design projects, even creating some comps for the "Saints" re-branding effort, as I made my way through school.
When I launched Artgig, our expertise in website and interactive development came in handy.
Yesterday, we designed a victory email blast for them, to remind alumni like my dad to continue supporting Siena–as if any true fan of Siena basketball needs reminding.
I hadn't planned on staying up to watch the entire game so we sent their Assistant Athletic Director an online trigger to launch the blast if Siena won.
But there I was standing in front of the television as the clock ticked down and the green and gold fanatics rushed the floor to celebrate their Saints.
Going to the big show–again.
Let's go Saints!