Artgig Launches ESLFlix.com
Wed, Feb. 25 2009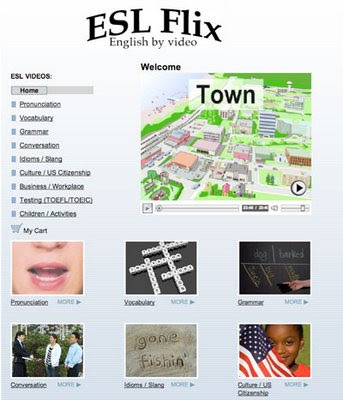 Here's a little something to keep you on your toes as we pull the curtain back, a little bit at a time, to show you the range of projects we've been working on for the last few months.
Drum roll…
We're pleased to announce the launch of ESLflix.com, a website by Artgig for the good folks at ESL (English as a Second Language) publisher, Vocalis Ltd.
Vocalis came to us some months ago with a need to change the face of their business. Their old website was dated and their business as producers, publishers, and providers of hard copy video educational materials was growing static. But Vocalis had a vision for the future that immediately piqued our interest. – mobile video learning for international ESL markets.
After talking to them about the wild west of mobile video delivery and revenue models, it was clear they'd done their homework.
As traditional U.S. distribution channels were drying up, Vocalis identified a clear growing need for English language training in international markets where few people have home computers but most everyone has a cell phone.
The ESLFlix.com website is the first phase of the greater vision - step one in getting Vocalis's products and videos online for broader access and purchase.
Of course, they've got a CMS behind the scenes to manage all of the content and upload videos themselves. Additionally, they can embed videos straight from YouTube – a nifty way to accelerate the expansion of content offered and a big leap toward becoming a hub for their target market.
Step two is mobile…