KirkwoodSpiro Website Launch...
Fri, Aug. 29 2008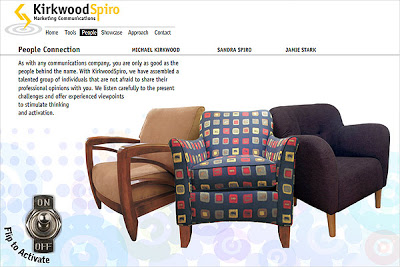 Launched a new website for KirkwoodSpiro Marketing Communications last week.
The site is designed as an attention-grabber for first time customers in the B2B space - bottom line is maximum impact.
We ran with their concept of business activation - coming up with a switch and an image on every page that beckons the user to participate in the website experience.
At first glance the images are intentionally sort of sketchy looking but with a flick of the switch, they are activated, and realized in a wash of color.
The site is all in Flash of course, and there's an HTML shadow site behind it for the search engines.
Check it out and be sure to look at the People section - Mike Kirkwood especially likes the action figure boxes.
kirkwoodcom.com