Follow the Cuban Missile Crisis on JFK50.org
Tue, Oct. 16 2012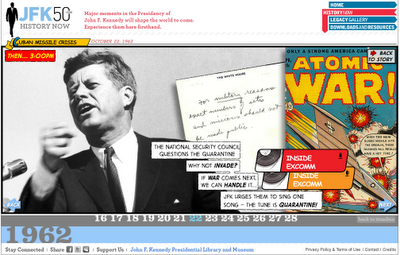 JFK50.org remains one of my favorite website projects, first because it's JFK!
And we got to work with the good folks at ESI Design and the JFK Library to come up with an award winning website to share the legacy of JFK.
I'm especially fond of the graphic novel treatment we designed to underline watershed events from the Kennedy administration in the History Now section of the site.
You can skim the watershed pages to get a feel for events, or (if you have Flash) dive into individual panels for more story and media.
Most of the events on the JFK timeline are one or two pages, each with 8-10 panels of deeper story.
The Cuban Missile Crisis spans 13 action-packed pages, so not only is it one of the standout watershed moments from the JFK presidency, it was also a major production milestone for us. 
Take a moment...   Imagine our nation on the brink of nuclear war.
Follow 13 increasingly tense days of the Cuban Missile Crisis, beginning today, as it unfolds... Nukes in Cuba! Oct 16-28, 1962