Mystery Math Museum: App Launch In Pictures
Mon, Oct. 28 2013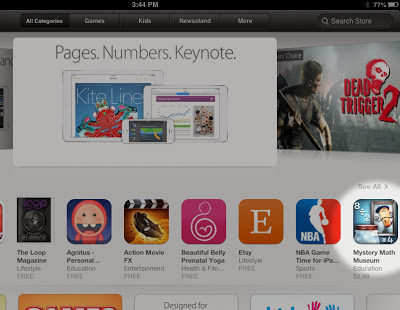 App Store Featured Best New Apps All Categories - Front Page
Our new app, Mystery Math Museum, appeared in the App Store right around the stroke of midnight last Thursday. We timed the launch to coordinate with the weekly App Store refresh and our Halloween marketing push.

The App Store update is always a nail-biter on launch day. It's one thing to go through the Apple approval process and get the "Ready For Sale" green light but it's another thing entirely to get picked by Apple for an App Store feature. I switched my desktop iTunes to the UK store a couple hours ahead of the usual 4pm est refresh to look for any clues that might hint at what to expect when the US store is updated. And last Thursday, I was encouraged to see Mystery Math Museum featured in the UK, so I let myself dream a little...
#99 out of 500,000 iPad apps
When we finally got a look at the freshly stocked US App Store shelves around 4:20pm we were thrilled to see Mystery Math Museum selected as a featured "Best New App" on the App Store front page.

Today Mystery Math Museum is ranked #99 in all iPad apps.

That's 99 out of half a million.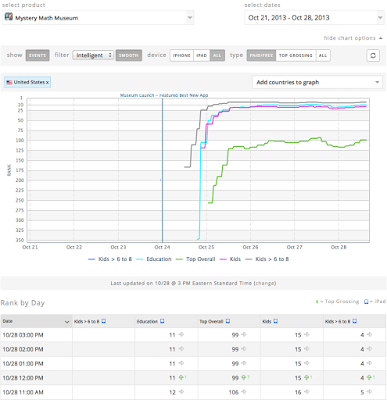 Launch charts #11 Education, #99 Top Overall, #15 Kids, #4 Kids 6-8
Yeah!