Artgig Launches New Consumer Eyes Website!
Tue, Sep. 27 2011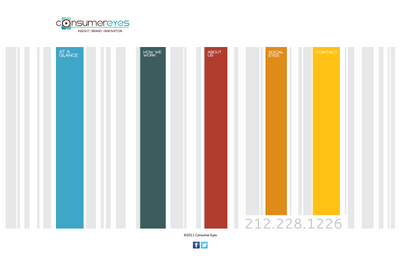 We're proud to announce the official launch of the new Consumer Eyes website.
It's quite good looking, don't you think?
We first met with the consumer insight specialists at CE many months ago and found an innovative company who had clearly outgrown their small Flash website and needed help streamlining a disparate set of web properties.
So, we got to work in close collaboration with the CE team to redesign and reimagine what the Consumer Eyes user experience would be.
Fortunately, the CE gang is sharp and motivated and there was no shortage of content.
This is what we came up with:
Gotta look good now, and a year from now - Jim's barcode design is a timeless classic. Throw in some of Steve's special JavaScript sauce and this HTML website jumps to life.
CMS platform needs to be expandable, modular and user friendly - No programmers, no problem. We built the site using Drupal and a quick tutorial got CE up and running.
Manage an expert video library - YouTube!
Integrate blog and social media - We picked up their WordPress blog content and moved it to the new site for easy management and a seamless user experience. Ever wonder what deep-fried butter on a stick from the Iowa State Fair tastes like? You got it – right on the site.
Take the show on the road - We built the site with a variety of screen sizes in mind to ensure no users are left behind, including those with iPads. We also created a mobile theme for mobile devices.
Did I mention eye candy? - Make that a double of Steve's special sauce. There's plenty of interactive goodness sprinkled throughout to dynamically illustrate innovation at work.
Check it out and don't forget to snap the QR contact code to add Consumer eyes to your contacts!
Consumer Eyes Website