Artgig Annual Concert Series - Lake Trout
Sun, Dec. 21 2008
Artgig took the show on the road last night, celebrating the third year of our annual holiday concert series with our familiar favorites - Lake Trout.
Lake Trout is a great little genre-bending band that effortlessly moves from electronic to jazz fusion, to Radiohead-rock to flute, in an improve-heavy jam session that somehow mixes all of these influences and spits them out in a set that is at once fully satisfying and still leaves you wanting more.
Often hailed as the best band nobody knows, we saw Lake Trout at a nearly empty Highline Ballroom last year for our holiday celebration, and I've been hooked ever since.
Since then, the band has been spending a lot of time on the UNKLE project and when it was announced that they were making a rare appearance at The Mercury Lounge in the village, well, our holiday plans were sealed. We arrived at The Mercury Lounge on a cold and blustery NY night to find the place nearly empty.
My good pal Nick joined us as a special guest, standing in as Lis's stunt double for the evening. The opening line-up featured:
Hats off to the bartender at ML - he even bought us a round!
During Charles Atlas, a girl stumbled out of the listening room as I was snapping this picture of the gang: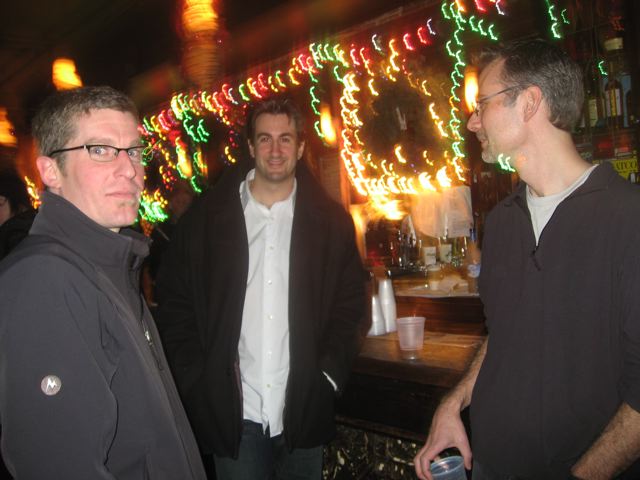 She was visibly shaken, and warned us not to take pictures, to erase our memories and forget this place because the music was just too depressing.
Skipped Wax Fang. By the time The Jones Street Boys (I almost typed the Jonas Brothers) hit the stage, the place was pretty packed but we still had some elbow room.
They seemed to have a good following, I don't mind saying I don't care how much fusion you throw in the pot with Country - it's not for me.
They finished their set a capella - yee-haw!
We grabbed another round of Blue Moons and staked out our spots closer to the stage
The listening room at Mercury Lounge reminds me of the basement in my parents old house where I grew up - it's a truly intimate space and a real pleasure to see a band like Lake Trout do their thing up close & personal.
As the band made their way to the stage and did a quick sound check, a small pocket of nearby fans, announced their allegiance with scattered shouts of "Baltimore in the house."
And then Lake Trout did what they do - they just let it rip.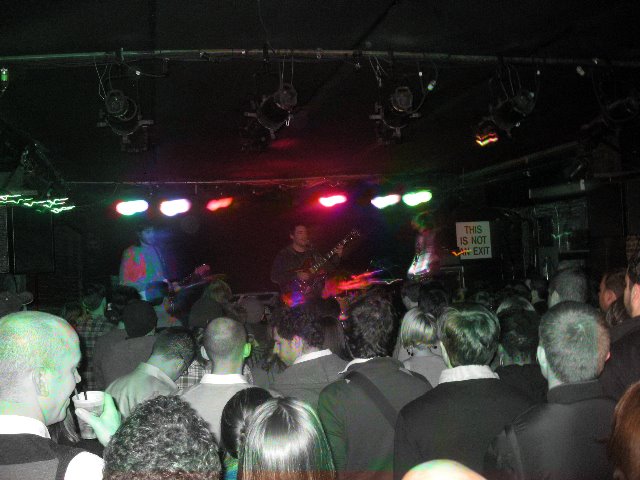 Nick came up to me after a few tunes and said with the greatest admiration, "they just came out and started jamming."
When the flute came out, he responded just as I had a year ago, "That dude, the keyboardist, is actually playing a flute - it's crazy."
And then it was over.
It was too short - I wanted more.
But Lake Trout had left the building.
Until next year...
Go pick-up the new live Lake Trout album for FREE at The Biggest Label Ever, an experimental site that offers free music, paid for by advertising.
All you have to do is register to get the tunes.
Happy Holidays!