JFK50.org – History Right Now!
Wed, Apr. 13 2011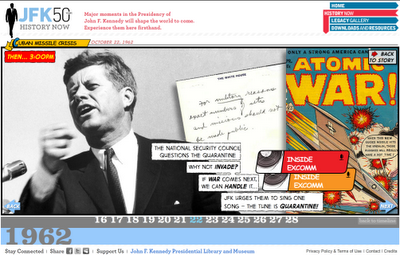 You may recall we initially launched the JFK50.org site with a concept of select time-released events unlocking in "real time" on an interactive timeline in the History Now section.
Well, forget that.
We talked to the JFK Library and we all agree, the events are too important and too interesting and well, too cool, to hide from first time visitors and we all know how important it is to be "sticky" when you've got a content rich website.
So we just unlocked everything on the timeline.
Check out the 13 nail-biting days of the Cuban Missile Crisis, presented as an interactive graphic novel.Or get a jump on the Bay of Pigs, with the anniversary coming up this weekend.
Remember you can dive in to individual cells to immerse yourself in the day and navigate frame-by-frame through the story.
We hope you like it.
Check out History Now at JFK50.org!