"Being Benny" Children's Book App Coming Soon...
Tue, Feb. 15 2011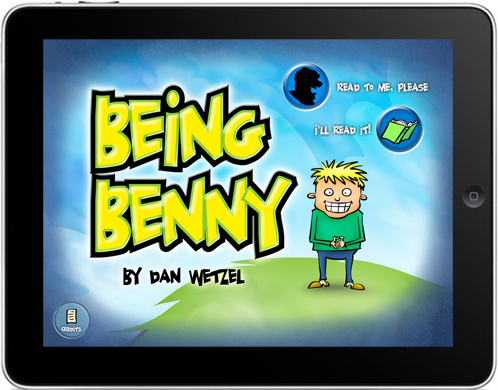 So, we've been working on some apps.
The first to release this year is "Being Benny," a children's book app based on the story from our good friend Dan Wetzel at Purple Sneakers Studio. We know Dan from way back in the Sunburst Technology days when we were making educational games for Houghton Mifflin. He's a good friend and a very talented illustrator/animator and all-around creative.
When we found out Dan had written and illustrated his own book we applauded him. Sure, it's easy to dream of writing a book but to actually sit down and craft an entertaining story and illustrate it, is no small feat. Once we got Benny in our hands, it wasn't long before we were talking about making the leap from the page to the touchscreen.
The app is in Beta testing now and should hit the Apple App Store for iPads and iPhones in the next month or so.
Stay Tuned...
Being Benny is currently available in paperback or hardcover at the Purple Sneakers Store.