Episode 7 - Developer Diary: Locked Up For The Holidays
Fri, Dec. 21 2012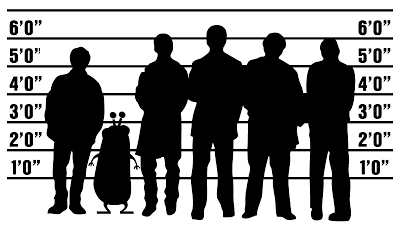 Today is the big day.
Or should I say the end of days, if you believe the Mayans. It certainly looked, felt, and sounded like the apocalypse when I stepped outside this morning, dodging fallen garbage cans and overturned recycling bins, in a relentless assault of howling wind and rain.
But I made it to work and what I really want to talk about is the other big day. Today, the App Store will officially go into lockdown and us developers will be locked out until December 28th.
If you've been following our story, you've seen a small indie development company strategically target high App Store visibility with a new app launch and an app promotion right before the expected holiday ranking freeze.
Our game plan paid off, and today our new Marble Math Lite: Multiplication app is a featured iPad Education New and Noteworthy selection for a second straight week, and our Alien Buddies sales are up over 30%.
Even more important than short term rankings and sales spikes, it does appear that our plan to drive up sales of Marble Math and Marble Math Junior by offering the Lite Multiplication version as a free test drive, is working.
One thing we've noticed about the iPad App Store featured window space, If you hold your iPad vertically and view the New and Noteworthy picks on the main category page you'll see that the apps are presented in neat groups of 6 (8, if iPad is in landscape). You have to swipe to get to the next group, for a total display of 18 apps in 2 swipes. There are however 24 New and Noteworthy selections in all. The only way to see the entire collection is to tap "See All" at the top right of the list.
So what, you ask?
Well, every time you ask a user to do something, like swipe, you're losing downloads because the act of swiping takes effort.
If the user has to swipe and tap - forget it.
Marble Math Multiplication landed on the New and Noteworthy features at position 8 last week which means you had to swipe once to see it, if you hold your iPad like a book, but you wouldn't need to do a thing to see the app if your iPad was in landscape.
We're thrilled to still be a New and Noteworthy pick and viewable on the Education category page going into the holidays, but now we're at the back of the line. It takes 2 swipes to find the app and that means an instant drop in downloads and rankings. We went from #40 to #70 overnight which means a drop-off of something like 300 daily downloads from the previous week.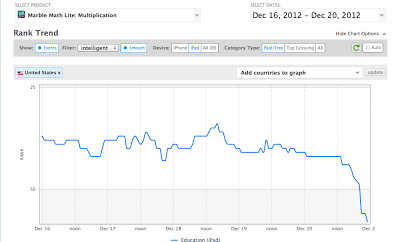 And if you end up somewhere in the last group of 6, and you can only be found by locating and tapping "See All", you've probably only got a week in the New and Noteworthy holding pen before you're released back to general population with all of the other 70,000+ apps in the Education category that aren't featured. And I'm pretty sure the holding pen is where you'll find Marble Math Multiply next week when we return from the holiday break.
But we're not complaining.
We've got a new app set to launch in 2013 and we've got lots of hope heading into the Holidays.
We'll wrap up this diary in January with a full report of life on the inside during the lockdown.
Enjoy.