Artgig Concert Series - Steve Live!
Mon, Mar. 30 2009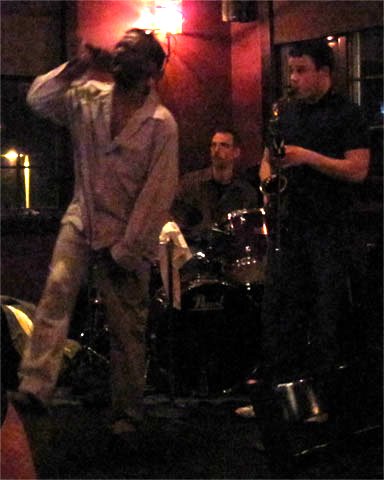 There were whispers that he'd hung up the sticks and we'd missed our chance.
Sure, I've seen him drag his ass into work after a late night open mike jam session, but it was looking less and less like he'd play a true live gig with a regular band again.
When he dropped the news, I knew I had to go.
I finally caught our very own Steve Grosmark, Friday night in a rare live performance, filling in on drums with Frankie D and the Boys, at the Harvest Bistro in Jersey.
Honorary Art-gigger, Nick, joined me for the occasion.
Of course, we got lost as soon as we got over the bridge–after politely reminding us over and over again to turn, my Tom Tom GPS decided to reset itself and turn us around so we were heading back home.
We pulled over in some shady motel parking lot with my tempermental GPS, both of our phones and a set of printed directions, all spread out before us, each giving us a different opinion on what to do next.
I was sure all was lost.
Fortunately, we got back on track and made it to the gig, just as the band kicked things off.
I gotta say, Steve looked and sounded like he's been one of the boys all along.
The band was tight–playing a special blend of groovy tunes with heavy leanings on the funk.
I didn't even realize they were playing without a bass until Nick pointed it out.
And that made the fact that Steve had just jumped into the band pretty much cold, all the more impressive.
Frankie D filled some of that space with his rich voice - the guy's a natural front man.
And they have a really great sax player who really ripped it up.
The guitarist, who Nick pointed out, looks like Tommy Chong from Cheech and Chong, was also very good and did his part to keep the rhythm in check.
But the true measure of how funky the funk really is, is how many people get up to dance.
And Frankie D and the Boys had the joint hopping.
It wasn't long before they were clearing tables from the floor to make more room for more dancing.
As Nick and I finally sat down to dinner, it made for some fine entertainment.
Eventually the bassist showed up, and he only added fuel to the fire.
The dancing machine, made up of mostly thirty-something-year-old women, let loose like it was their first night out in years.
We stayed right up until the final set but cut out before the end.
Steve says they closed the joint and the place was jumping right up until the end.
Good times.