Shake-a-Phrase – A Good Day in the App Store!
Fri, May. 20 2011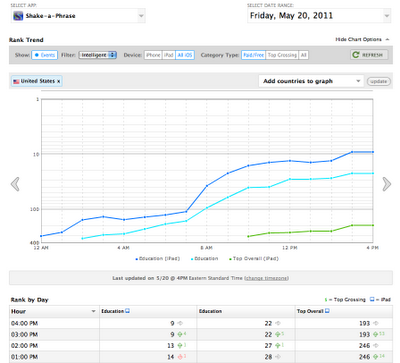 This is what a good day in the App Store looks like.
We ran a special App Friday price promo with our friends at Moms With Apps and dropped some press with heavy @artgigapps Twitter support this AM and watched Shake shoot up the Education charts!
We used appFigures analytics for live rankings updates and watching the top charts on our devices...and Shake...just...kept...going.
Really awesome.
Shake-a-Phrase App Store rankings as of 4pm today:
#9 - iPad paid Education apps
#22 - iPhone paid Education 
Top 200 - Overall paid iPad apps!
Thinking we may just let the good times shake right through the weekend!
Get Shake-a-Phrase now for only .99!