Musician Websites & e-commerce...
Mon, Mar. 31 2008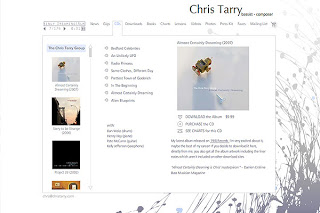 Musician websites are definitely a growing part of our business and I'd like to take a moment to thank Dave Binney, Jen Chapin, and Chris Tarry for helping us to develop a product that goes right to work for our friends in the music biz.
Today, we're perfecting the record label website, introducing the concept of multiple artists and a single store for:
Plunge Records - nearing launch just need to tie up the e-commerce integration. Our latest Canadian client, Simon Fisk is always good for a quote -
" blown away man. Fan-f'in-tastic! pardon my canadian! HA!"
Simon is a cool cat and a pleasure to work with.He's enlisted NOVA as the payment processor and they're a bit odd, putting the cart before the horse - they need to see the website live before they will approve his account. So, they need to see his store live without any way to pay for anything. Ummm...okay. So we'll give them a quick look and pull it down quick so Simon can finish uploading the content.
Nineteen-Eight Records - Also working on a new site with e-commerce (Chase bank and Authorize.net) and a custom content management system for Nineteen-Eight. Hoping they push some music our way as well. Henry and Anthony are good guys too and they know what they want. The site should drop in a couple of weeks - not long after Plunge goes live. Links to come for both when they are officially public and open for business...
Also heard today from another client who says Sovereign Bank has a one-stop-shop deal with YourPay...