Jen Chapin Website Update
Thu, May. 15 2008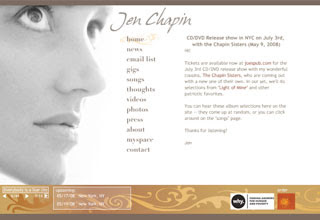 Jen contacted us recently with thoughts on a redesign of the website we created for the release of her last album, "Ready."She's got a new album, "Light of Mine," and she's thinking she needs to change things up and add a store so her fans can purchase right from the site.
I'm a big fan of the "if it ain't broke, don't fix it" school of thought, and we (Jen included) get a lot of compliments on the look of the site, so we decide to keep the look and instead concentrate on building the store.
Planning to have the store up & running by early June.
Jen has already added the new album and music samples to the site using the CMS.
Check it out!
jenchapin.com