WARNING - App Marketing Misstep
Mon, Jun. 10 2013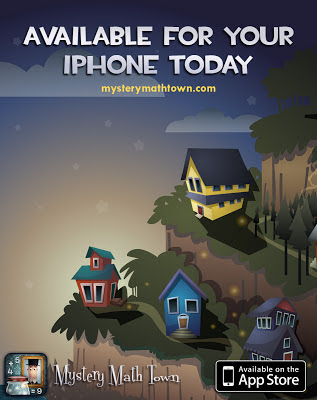 We've been feeling good about our educational app, Mystery Math Town, since we launched the game in April.
The app debuted as our best yet, easily eclipsing the previous successes of our Marble Math and Alien Buddies apps. Mystery Math Town was picked by Apple as a featured iPad Education New and Noteworthy selection and it even spent some time on the front page of the iPad App Store. We also received an outpouring of critical praise and user feedback, telling us how much people enjoy playing the game. But amongst the positive buzz and back-patting, there was a small but very vocal group of iPhone users who felt slighted - because we'd released Mystery Math Town for iPad only.
When we next gathered around our developers round table to plot our app updates, we quickly decided to fast track development of an iPhone version of Mystery Math Town. It seemed like a no-brainer to create a separate iPhone app for a number of reasons:
It would satisfy a clear market need - we knew users wanted the app for iPhone.
It would allow us to test the performance of an iPhone app in the App Store. To this point, our apps have all been universal (iPad and iPhone) or iPad-only. Apple only gives you combined sales in reports so there is no clear way to separate iPad and iPhone sales for universal apps.
We already had a successful marketing campaign in place for the iPad launch and we could repurpose some of those materials for iPhone.
People already love the iPad game!
It was an easy decision. We immediately defined the work we needed to do, which mainly required a re-thinking of the UI to take advantage of the phone screen real estate at different sizes. Once we settled on the adjustments to ensure a good user experience on the phone, it took about 70 hours in total design and programming time to make the changes.
We released Mystery Math Town for iPhone last week on Wednesday June 3rd for $1.99.
To date it has been downloaded 38 times, selling an average of 5 apps/day and earning a whopping $40.89 in total sales. That doesn't even cover a single hour of our development time.
Let me be clear, we never expected to repeat the success of releasing a brand new app. We also know that iPhone sales are significantly lower than iPad sales in the education space.
Sure, the timing isn't great. It's the end of the school year and there isn't exactly a frenzy of educational app purchases in June...or July for that matter.
We've worked hard to cultivate our Artgig Apps brand and we have a pretty loyal following of educators, parents and app reviewers who know we produce quality games. Our family of apps consistently rank in the Top 5% of all iPad apps in the App Store Education category.
I would think on the strength of the family alone, we'd be selling more than 5 apps a day.
But in order for the concept of App Store cross promotion to work, people have to see that your apps are related.
And, in the case of Mystery Math Town for iPhone, we've learned a very hard lesson.
Apple does NOT consider Mystery Math Town for iPhone to be related to any of our family of apps, because we have not produced any other iPhone-only apps. Actually, that's not entirely true. If you're looking at Mystery Math Town for iPhone in the App Store, and you search under "Related," you'll find exactly what you'd expect - more apps, like Marble Math, that you can play on your iPhone by the same developer (us!).
But our primary challenge with a new release isn't helping users to find other apps we've produced. The big challenge is helping users to find the new release (i.e. Mystery Math Town for iPhone).
In the App Store ecosystem not all family members are so sunny when speaking of their relatives. In fact, some of them flat out refuse to say a single word about the family.
If you're looking at the Marble Math App Store listing on your phone, and you say to yourself, "let me see what else these brilliant developers have produced" and you naturally select "Related" to peruse the other apps you might consider purchasing, Apple has apparently made the decision to exclude Mystery Math Town for iPhone, because it is an iPhone-only app, and you were looking at a universal app, so that must be all you are interested in.
Ouch.
That's where we stumbled and sprained our app marketing muscles.
It's pretty incredible to me that in the vast sea of the App Store, Apple is actively squashing the idea of cross promotion.
But there you have it.The screenshots do not lie.
If you're considering developing an iPhone-only app - you might want to think twice.Unless you're prepared to produce iPhone-only versions of your other apps, you'll miss out on one of the few opportunities available for app cross promotion.
This PSA is brought to you by Artgig Apps.