Artgig - Swimming With the Dolphins
Mon, Oct. 5 2009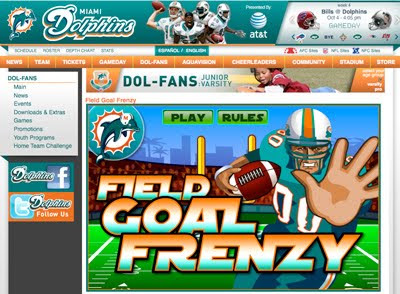 Little known fact – when I was a kid growing up in the 70's, I was a huge Miami Dolphins fan. This is when I was living Albany and there was no clear hometown team (Bills? I don't think so) so I naturally went with Csonka and Griese all the way down in Miami.
Shortly after moving to Westchester my dad took me (in full Dolphins uniform) to see their hated rivals, the New York Jets, at Shea. I think I blocked the abuse from that day out of mind. All I can say is it's a good thing I was wearing a helmet.
I may not root for the Dolphins anymore but it's with special pleasure that I announce two games we recently wrapped for the brand new Miami Dolphins website, produced by our friends over at Crossborders in Manhattan:
Field Goal Frenzy - challenges players to kick field goals through the moving goal posts as they race the clock. There are five levels of play and the goal posts get faster with each round. Hot streaks are awarded with bonus points.
Red Zone Photo Hunt – users pick a category and race the clock, comparing two similar photos in an attempt to identify the differences. There are five rounds per game, and the clock gets faster as the user advances. Players can request a hint in a pinch.
With these games and the launch of Winter's Tail, I think we've met our September marine mammal quota.
Now let's go play some football!Play Field Goal Frenzy