Eoz Games Celebrates App Trio Launch With Huge Sale!
Mon, Apr. 23 2012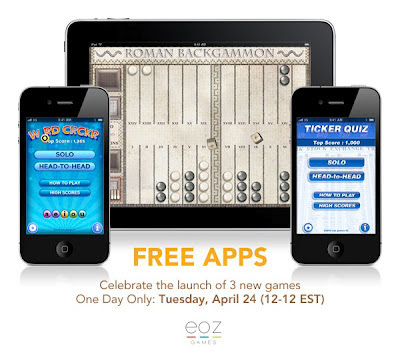 Psssst!
Yes, you.
Do you like free stuff?
Well, I'm gonna let you in on a little secret...
Roman Backgammon ($2.99), Ticker Quiz ($1.99) and Word Cracker ($1.99) will be free to download from the App Store tomorrow, 4/24 (EST).
Yes, I said free.
Yes, it sounds just like "tree."
Yes, they will work on your iPad and iPhone.
I guess they just want to share the fun.
Just go download them and tell your friends.
DOWNLOAD FREE EOZ GAMES 4/24