Guest Blogger Concert Report: Big Day Out, Australia
Thu, Jan. 28 2010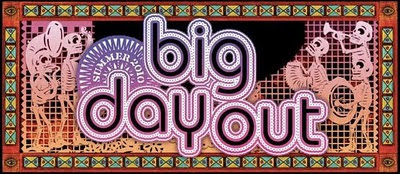 You say your 25 minute drive to work this morning took an hour and forty-five minutes because it was snowing?
Then you might be slightly jealous to hear it's summer in Australia.
And slightly more jealous to hear the Big Day Out music festival in Sydney rocked and you missed it.
But all is not lost.
Artgig has a team on the ground down under and our guest blogger, Hallie Bruce, has filed a report from the trenches to satisfy your craving for vicarious sensory overload.
Big Day Out - January 23rd 2010
The heat didn't stop the masses from storming the second day of Sydney's Big Day Out music festival and it certainly didn't stop the bands from tearing the music scene up.The lineup was crazy. The performances were totally awesome. The crowds were crushing. (Thankfully the heat broke halfway through the afternoon with a downpour that drenched Olympic Park.)
Karnivool, Aussie progressive rock band, belted out smooth lyrics to deep alternative guitar riffs, Hilltop Hoods rapped out their famous harmonic hip hop, and Rise Against rocked out to some bone-shaking punk rock tunes. Even Lily Allen, not my favorite, sounded great, borrowing fellow Brit Dizzee Rascall, another Big Day Out-goer, for a song or two.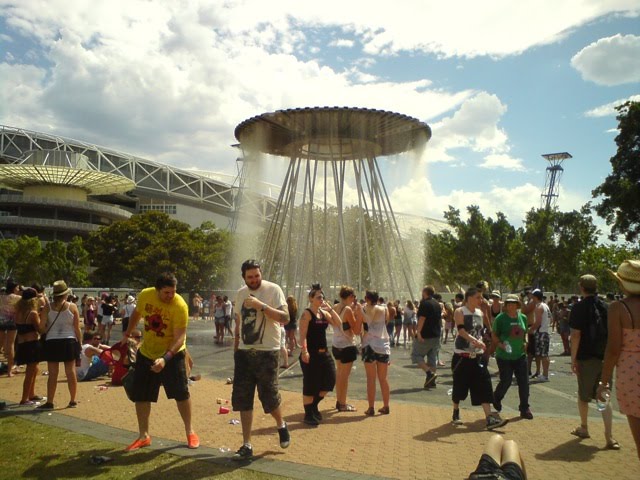 An attraction frequented by my brother was the Silent Disco, which provided headphones and different music to each participant who entered an interesting throng, each dancing to a different set of tunes.
The Mars Volta for sure was a huge lure for Big Day Out crowds, and the pit was filled to the brim as they entered on stage and began their famous improvisational set, delivering an amazing hour-long show. Cedric writhed like nothing else on stage, and the improv was completely on par with--if not better than--the original tracks. It was not a gig to miss.
But by far the set that took the cake was Muse, who entered playing "Uprising", their newest and greatest single, projected up on three split screens set up alongside the stage and accompanied by a fierce laser lights show. Although the arena was enormous and the acoustics suffered greatly for it, the power of their sound was unmistakable. Performing hits like "Time Is Running Out", "Hysteria", and "Starlight", the crowd was whipped into a frenzy. But who wouldn't be, when Matthew Bellamy and crew are standing right in front of you, serving up some of their best music? They were joined by Jet's Nic Cester for a cover of AC/DC's "Back In Black" in homage to Australia's hosting of the 100th Big Day Out since Nirvana first played in 1992.
The night ended with a spectacular fireworks show, the colors and thundering explosions bringing to an end a most fantastic Big Day Out indeed.