The Story of Mystery Math Town
Tue, Oct. 28 2014
Mystery Math Town, easily our most successful app to date, was originally conceived as a simple Halloween matching game to launch in 2012. Five months later, in April 2013, our "Halloween" app had evolved into a math practice game and it debuted on the App Store with a front page "New and Noteworthy" feature. The success didn't come entirely as a complete surprise. We had already released the popular Marble Math series of apps and we had been testing Mystery Math Town with kids, parents and teachers, so we knew we were onto something. For me, the "moment" came over Christmas break - my son, who was seven at the time, discovered a rough beta version of the game on my iPad and started playing...and playing...and playing.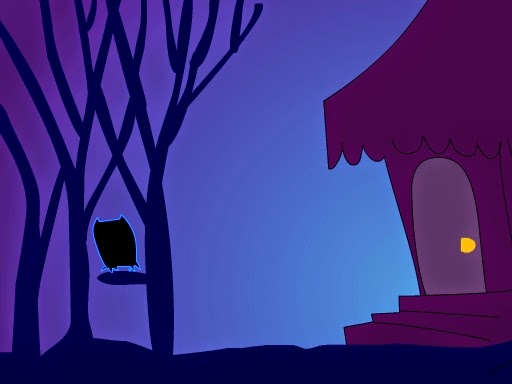 Original Mystery Math Town concept art - simple matching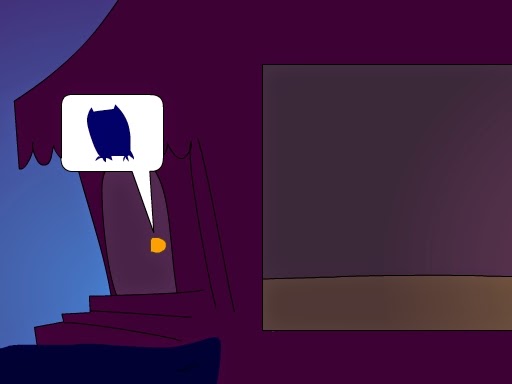 Working title: Scrollable Haunted House Logic Quest Environment With Doors/Elevators
I personally love Mystery Math Town. I love it because it is fun to play but I also love the story. The setup is simple, help a little ghost to "save the fireflies!" On your journey you encounter the townsfolk of Math Town in the form of talking portraits and each of the characters reveals a little bit more about the town and the mystery you now find yourself trying to crack, along with some of their own individual peculiarities.
I spent some time writing screenplays in my 20's and Math Town gave me an opportunity to try something cinematic with a kids educational app. My good friend (and Artgig Creative Director) Lis, designed the wonderfully atmospheric look of the game and managed to keep it spooky without getting scary. Lis illustrated all of the character portraits and handed them over to me to write their stories - all 27 of them. I have to say, I can't recall working harder or having more fun in my entire professional career. It doesn't matter if most kids never "get" that "Beans" McGuirk is highly suspicious of the cowboy, "The Outlaw" Jim McQuade (both apparently Irish), ever since his fedora hat went missing. And kids can certainly enjoy the game without ever tuning in to the somewhat one-sided budding romance between young robotics-engineer-in-the-making, Melody, and her Jack, who is more interested in beating Biff in a race, than Melody. What matters is the one kid who does get it.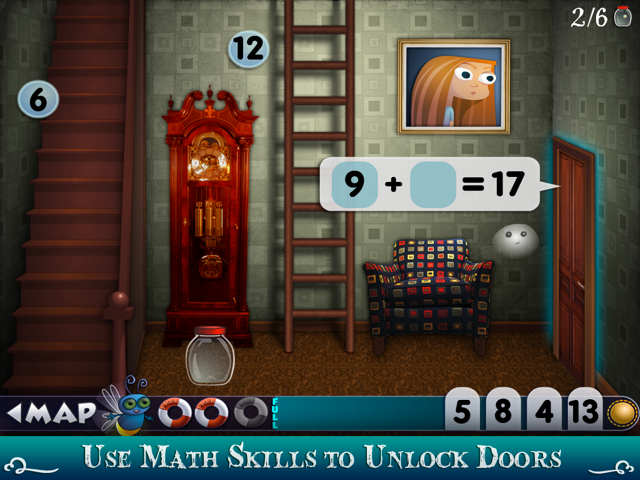 iTunes screenshot concept with Melody portrait
In order to reveal the full story of Mystery Math Town, you must rescue the fireflies and collect all of the portraits in the game, which requires quite a bit of math. Alternately, you can just cruise through the initial level of play, tapping the portraits as you go and they will respond with one liners. My son kept going back to "Hank" (a crowd favorite), not because of the rich storyline but because he is just plain funny. Lis made Hank really easy for me - one look at his portrait and his prominent pompadour and you know Hank wants to be Elvis. I imagined Hank as a guy who sees no value in math at all - all he really cares about is Hank: "I have so many fans, even a computer couldn't count them all, baby." But the key to Hank is Steve - our Development Director, programming guru, resident drummer and as we now know, closet Elvis impersonator - he nailed the famous Memphis mumble with his voiceover and made Hank an instant hit, baby.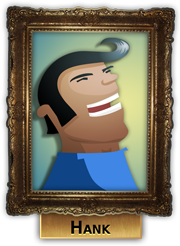 We like to discuss the backstory of a game even when there is no obvious intent to share it with the audience. Backstory is important for you to understand as a creator because it informs the decisions around the game you are making. I will leave you with the story of Mystery Math Town. Lis handed me a picture of Math Town, perched on the edge of the sea, and said something like "what do you think of this?"
Mystery Math Town (1768-present)
As the story of Mystery Math Town goes, once upon a time, The Admiral (of Her Majesty's Royal Navy) became something of a specialist in hunting and capturing pirates. But one pirate in particular, known only as "The Ghost" eluded him. Eventually The Admiral chased The Ghost and his crew to the shores of what is now known as Mystery Math Town, and pushed the band of outlaws straight up into the hills, where they disappeared with their treasures, without a trace…until now.
Our ghost is the child of the infamous ghost pirate. Naturally friendly and curious, the little ghost is eager to help find and rescue the missing fireflies. The final painting you can collect to end the game is the infamous ghost pirate at the wheel of his ship with his little ghost by his side. It isn't until you collect the final painting that the full story is completely revealed.
We made a set of trading cards to tease the app prior to release
And that is the story of Mystery Math Town.
Happy Halloween.