Artgig History Lesson - The Constitution
Tue, Sep. 8 2009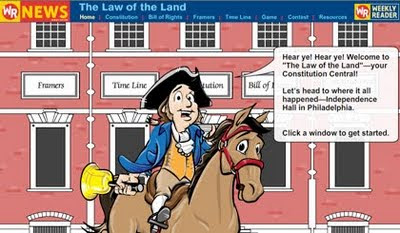 When we met with the Weekly Reader News team back in June to discuss their idea for an educational website to teach the Constitution to kids all we had was a basic concept and high expectations, this being the first in a planned series of digital e-issues for a business traditionally rooted in print.
Today, just 12 weeks after our first brainstorming session, I'm happy to announce the release of the Constitution e-issues for Weekly Reader–and they got not one, but three different websites for three different age groups.
The look of each site is essentially the same but the content changes specifically for each audience.
Our animated host, the Town Crier, leads users into five primary activities: the Constitution, Bill of Rights, Framers, Time Line and the "Constitutional Challenge" Game. Each section offers a different interactive activity to engage learners and helpful tools like a hot glossary reinforce learning as kids discover embedded terms and definitions while they explore the content. Each of the five activities also includes an assessment component relevant to each section.
The activities are designed for maximum fun, like the Framers, where one can't help but pick up interesting facts about each of the Constitution's creators as their portraits come to life, or the Constitutional Challenge game where users earn points as they test their knowledge of the Constitution in a Jeopardy-style game show format.
Artgig created the general UI design, produced the Flash animation from supplied art, created all of the functionality to specs we developed, and we took care of all audio production & VO.
If early testing and feedback is any gauge of success, we've got another hit on our hands.
Check out one of the three versions here:
The Constitution