Episode 6 - Developer Diary: Locked Up For The Holidays
Mon, Dec. 17 2012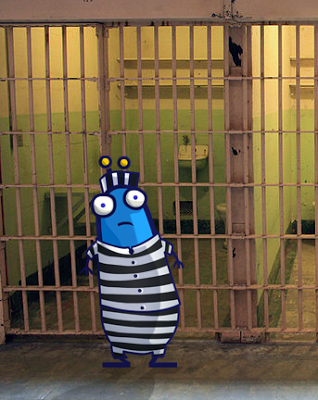 How was your weekend?
After a sudden turn of good fortune, we found ourselves strutting around the App Store with the big dogs in the Education category.
It's exciting to see our marketing strategy and efforts to promote our new app, Marble Math Lite: Multiplication, pay off handsomely in a featured App Store Education window spot.In an instant, Marble Math Multiply went from New and Not Possible to Find, to New and Noteworthy - and what a difference that visibility makes.
Before the New and Noteworthy feature, Marble Math Multiplication was struggling to stay above the Top 300 fold, averaging around 200 downloads/day, today it's holding steady at around #40 in Top Free Education apps.
That's about 1,000 downloads a day.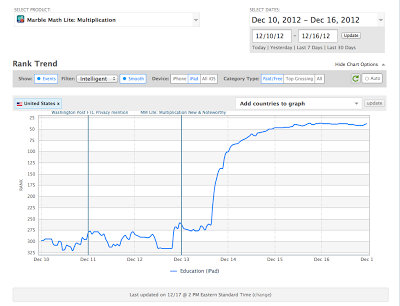 We also ran our free Alien Buddies promotion on App Friday.
App Friday is a weekly web event and Facebook party, featuring select family-friendly developers and their discounted apps, and it's been a really good platform for us to mingle with folks who use our apps, as well as other developers.
The simple act of switching your paid app to free triggers the alarm for all of the app price change aggregators, but you also want to reach out individually to reviewers, bloggers and friends in your network ahead of your promotion, to make sure they are prepared to lend social media support.
With the full force of our social media network behind them and a generous push from AppAdvice Apps Gone Free, our little Buddies raced up the charts on App Friday, leaving even Marble Math Multiplication in their dust as they reached exalted Top 10 territory, settling at #7 with only the likes of Mickey Mouse and Toca Boca ahead of them. We waited until Saturday afternoon to manually switch Alien Buddies back to Paid to make sure everyone worldwide had a chance to download the app during the promotion.
Alien Buddies was downloaded over 11,000 times.
It's always hard to pull the plug when you're staring at your app in a Top 10 position, and when you do, your app ceases to exist on the charts at all - it falls into a black hole as the charts re-calibrate and that's when the fear creeps in.
"Will I ever make it back?"
Before the promotion, our Alien Buddies were hanging around in the 250-300 chart range.
Today, they've jumped about 100 spots and look quite content around #150.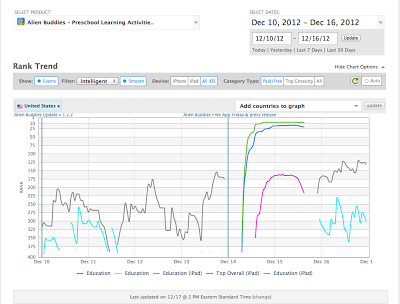 It remains to be seen whether they can hold their turf higher up the charts. Typically, sales and free promotions are good for a quick rankings injection and a short-lived status bounce, before things settle  back to their natural order.
But sometimes the bounce is just enough to get some extra attention.
With any luck, Alien Buddies will hang on to their new chart territory and Marble Math Multiplication will still be a New and Noteworthy app when the dust settles from the App Store changes this Thursday, before the holiday lockdown.
There it is again - hope.
Without it, we'd be working in a shoe repair shop or delivering pizzas or something.
* The author actually worked in a shoe repair shop and delivered pizzas once upon a time.