Looking For Miza?
Fri, Sep. 19 2008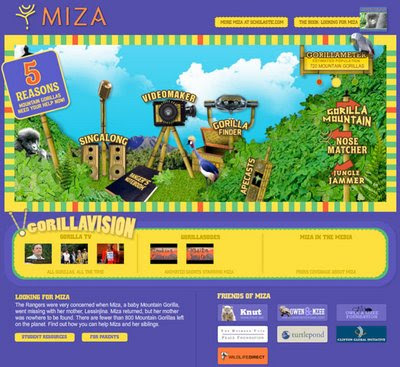 Introducing miza.com
We're very pleased to finally pull back the curtain on this little Flash website we've been working on, along with the good folks at ESI Design.
Miza.com is the companion website for the children's book, "Looking For Miza," published by Turtle Pond in conjunction with Scholastic Corporation.
"Looking For Miza" is the true story of a baby Congolese mountain gorilla who is rescued by her family and returned home after her mother's death.
The book and website are designed to raise awareness and promote education about the plight of the mountain gorillas in Africa.
The project is part of the Clinton Global Initiative and will be featured as part of the first-ever Kids Gorilla Summit in a live webcast on September 26th.
It's easy to get behind this one and as an added bonus we got to work with some very creative and talented people who let us strut our stuff.
The site features activities and games that include:
Interactive video maker that lets kids make audio/video mash-ups of their favorite wildlife clips
Gorilla nose print matching game
Videos, animated shorts, resources, sing-along activities and much, much more...
And one of my personal favorites, Jungle Jammer – a game that where kids can arrange different musical African animals in a selected environment and watch them get down to the resulting funky beat.
But the crowning achievement for us in this entire production is Gorilla Mountain – a multi-level platform jumping game where users control a ranger as they navigate through the mountains searching for Mountain Gorillas – think Donkey Kong meets Pitfall.
The website launched today but we'll be tuning it and adding features as we go.