Happy Birthday Shake-a-Phrase! App Update & Sale!
Fri, May. 11 2012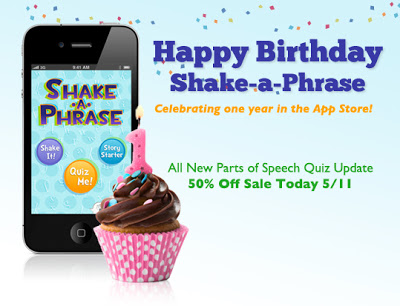 How time flies!
Shake-a-Phrase, our fun little grammar app turns one today.
Its been downloaded over 25,000 times.
It's an iTunes featured Storytelling App.
And we just updated the parts of speech Quiz to add prepositions and conjunctions.
That's our gift to you.
Shake-a-Phrase is a funny little educational app - people seem to either love it (thank you, loyal and vocal educators), or hate it (because it doesn't do your laundry).
I personally love it.
Every now and then when I shake it up, it's bound to give me something unexpected that brings a smile to my face.
And if that isn't worth a measly .99 (on sale today), I don't know what is.
Much more on the way from Artgig Apps, so stay tuned...
Get Shake-a-Phrase