Dan Cray Website Launch...
Tue, Nov. 11 2008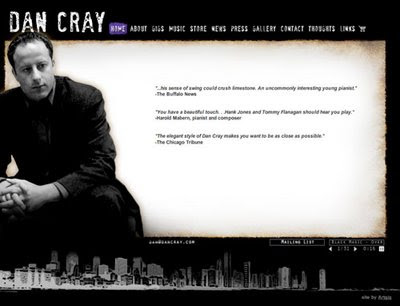 We're happy to announce the launch of our latest musician website, dancray.com.
Dan's site has similar functionality to that of other musicians we've worked with over the past few years, and as is usually the case, Dan's custom requests have enabled us to continue building on what has become a bona fide web platform that caters specifically to musicians.
So what's new with this one? The online store now supports PayPal in addition to most other popular payment gateways, and in an interesting twist on the typical cd/mp3 buying options, visitors can also buy Dan's albums on USB thumb drives. We also integrated a wordpress blog and skinned it to match the rest of the site, including the Flash navigation. And last but not least, Steve cooked up some custom mailing list sorting so Dan can easily target his audience by geographical region– obviously handy when tour time rolls around.
Dan will be playing the Chicago area throughout November, so check out the site for dates - and don't blink or you might miss the piano-playing crawdad in the loader:
dancray.com