Thievery Corporation
Fri, Jun. 27 2008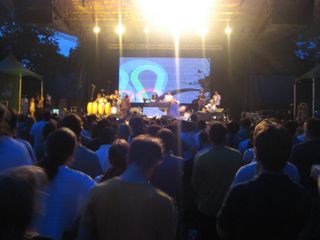 Saw Thievery Corporation last night at Central Park - what a great show.
Actually, it's been a good welcome to the summer all around - took a long weekend at the beach in Montauk and spent the afternoon in Central Park yesterday feeling some good music and vibes on what turned out to be a perfect summer night.
Seu Jorge made only a brief appearance but he made an impact.Honestly, the entire Thievery set was on fire, they rolled out all kinds of musicians and singers - even a belly dancer to compliment their exotic mix of sounds that range from the Middle East to the Caribbean.
Gotta give credit to the crew at Turntables on the Hudson also, who made the most of a short set.Good to see they're still alive and clearly kicking - used to go to their parties down at the piers at the now defunct Lightship Frying Pan.
Can't forget the Frying Pan - no sir.